Museum Quality Collection
Located in an old bank barn in the upper midwest the most complete collection of Root & Vandervoort engines known to exist. The collection includes 27 engines in total and one scale model. Has the earliest and ONLY KNOWN 20 HP R&V sideshaft, along with a 12 HP and 6 HP.
Will not sell individually, sold as a collection of 27 Engines and one scale model ONLY.
Serious buyers $169, 450 firm, no trades, first come first serve.
This is a third party sale, not responsible for inaccurate information stated or implied, via photos, written word, or spoken word. Any and all information concerning the sale is provided by the owner including photographs, descriptions, serial numbers, and types of engines. Both owner and third party helping sell via internet are representing items in good faith and to the best of their knowledge.
Also included are the 12 HP and 5 HP short side shaft, and the ONLY KNOWN horizontal 6 HP special.
Of vertical engines there are 11, ranging from 2 HP to 6 HP. These include all the various configurations built by R&V, and includes the ONLY KNOWN oil cooled cast radiator model.
Rounding out the collection are 10 horizontal Triumphs and Competitions from 1 HP – 10 HP. These engines are mostly restored with several in original patina.
The buyer will also receive the framed museum display plaques that go with all the high end engines along with an extensive collection of reproduction literature, catalogs, specifications and parts lists.
For any questions please email, call, or text Wayne Walker Home: 785.889.4667 Cell: 785.458.9718 Email: wayne@forgotteniron.com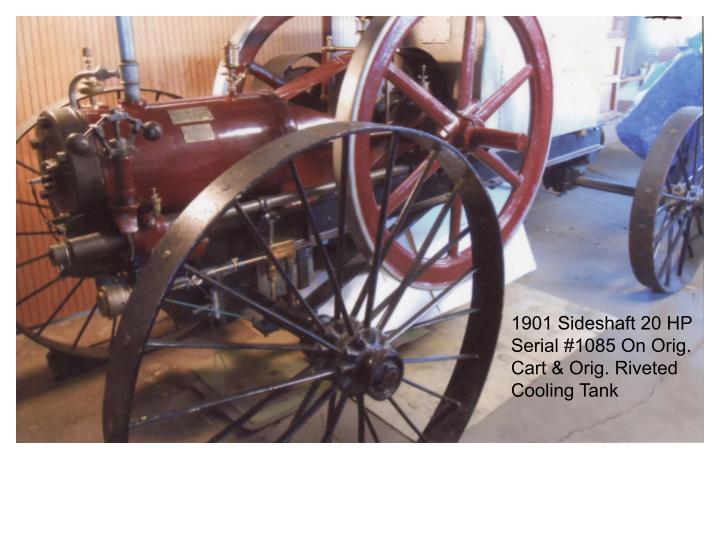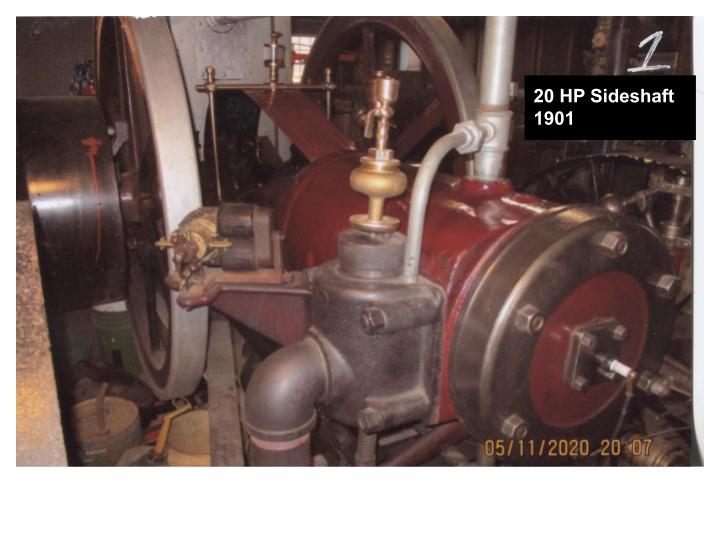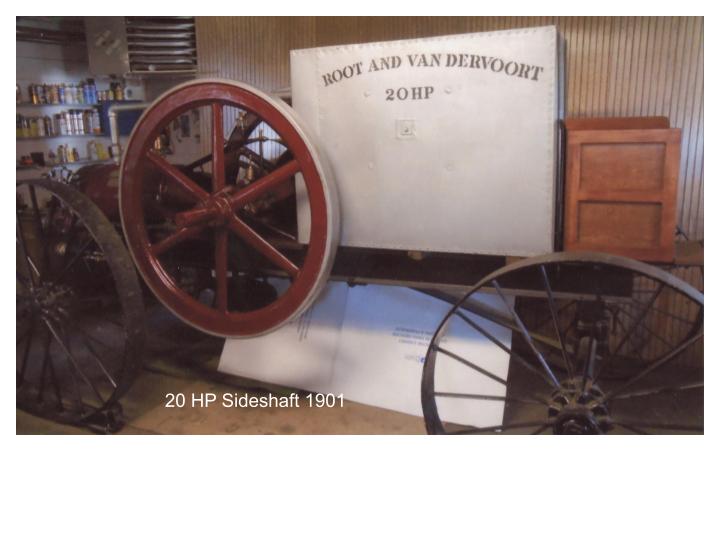 1901 Root and Vervoort 20 HP built by Advance Mfg. Hamilton, Ohio
This engine was sold to R&V in 1901 before the moline foundry was in full production. It was shipped west to run the Power House in Stanberry, Missouri where it spent its working years. At Stanberry it was referred to as the R&V by those who operated and maintained it. After being taken out of service and resting in brush and weeds for many years, it was discovered and rebuilt by railroad engineer Loren Miller. We acquired it from the Long brothers at Rockford, Ill.
During restoration we discovered the Advance Mfg. Stamping on the side shaft and other parts. The similarity between Advance built engines and R&V's can be attributed to the design engineer, C.M. Giddings, who worked for various companies around the turn of the century. His engineering experience undoubtably contributed to the smooth running of the throttle-governed side shafts at both Advance and R&V. The precision machining on the bevel gear that drives the sideshaft on this engine and the 6 HP hopper-cooled sideshaft gives testimony to the expertise of these early design engineers. Quote from C.H. Wendel: "On virtually all side-shaft engines, the two spiral gears were of the same diameter, but the 2:1 speed ratio was achieved by changing the tooth angle on the gears. This is technically a difficult calculation, and only serves to bolster our conclusion that these "old timers" in the engine business were very talented people."
Originally, this engine had a four bolt igniter and sideshaft driven strike lever. At some point in its history it was converted to spark plug and Model T coil. The spark is retarded by a lever that changes the point of contact as the sideshaft rotates. We have a copy of the original ignitor and plan to return the ignition to its original form. 20 HP Sideshaft Serial Number #1085 (1901) Original Riveted cooling tank, original brass autosparker Mag, brass Volitiser, Orginal Cart.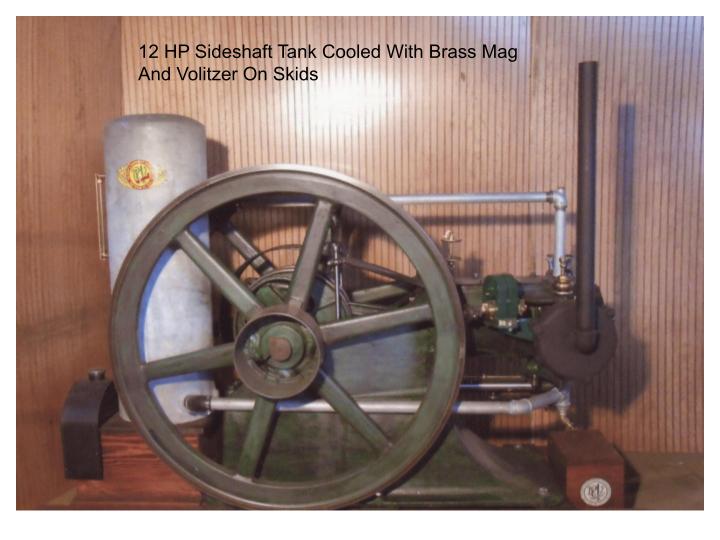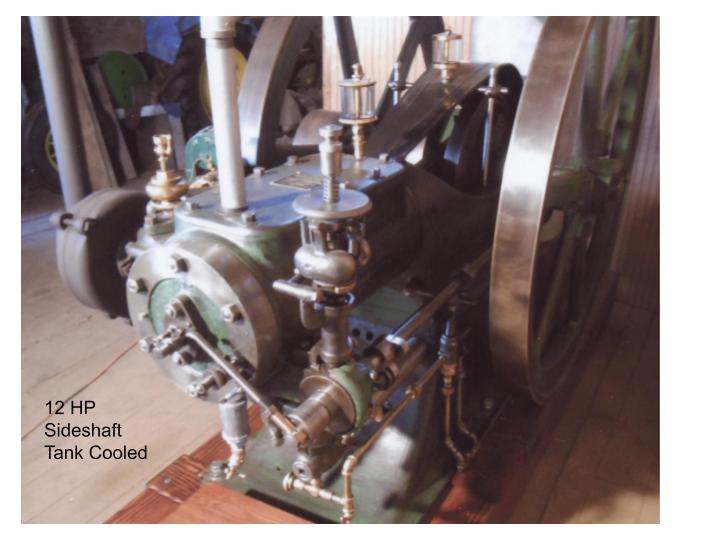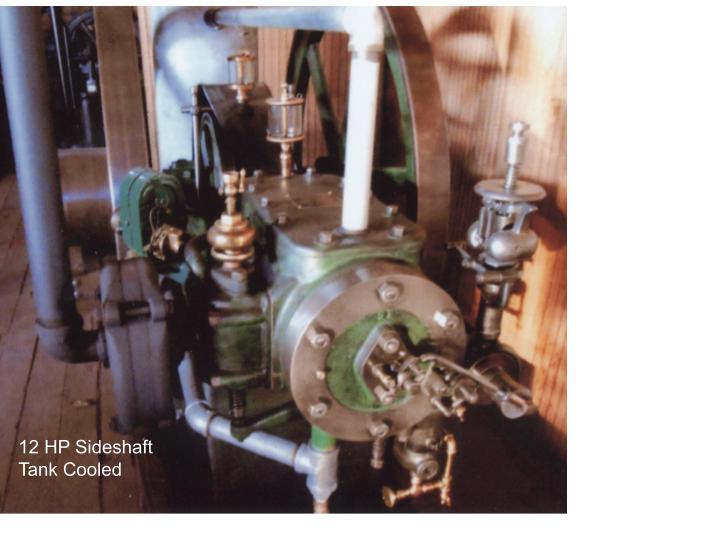 Root & Vandervoort 12HP Tank Cooled Sideshaft
According to verbal accounts from previous owners, this engine was shipped by rail to Colorado and used to pump water from an open pit mining claim. When the mining venture failed, the owners settled on a dry valley ranch in the south western part of the state. There the engine was used to irrigate a large garden plot and pasture surrounding the ranch buildings.
At some point in the 1960's, the engine was hauled to California and steel forklift skids were installed under it. In 2015, the engine was brough to Wisconsin, put on Douglas Fir Skids and reconditioned as you see it now.
Built at the factory in Moline, IL, in approximately 1912, this 12 HP and 7 ¾" bore, 10 ¾" stroke, with 52" flywheels and weighed approximately 3600 pounds.
Factory options were Edison coil with batteries, flywheel driven wizard magneto, volitilizer to aid starting in cold weather, and heavy duty cart if portable transport was needed. 12 HP Sideshaft Tank Cooled with brass Magand Volitizer on Skids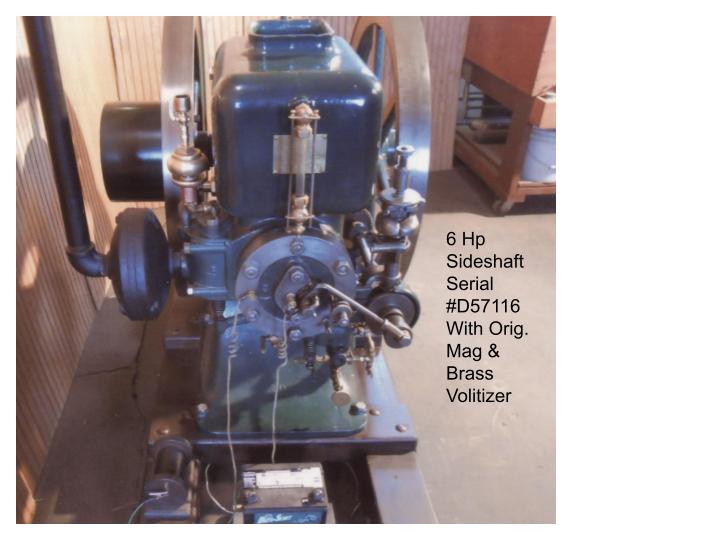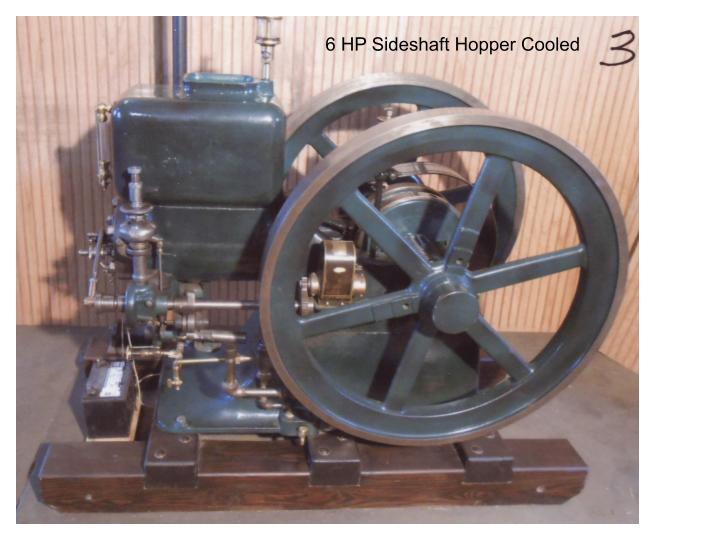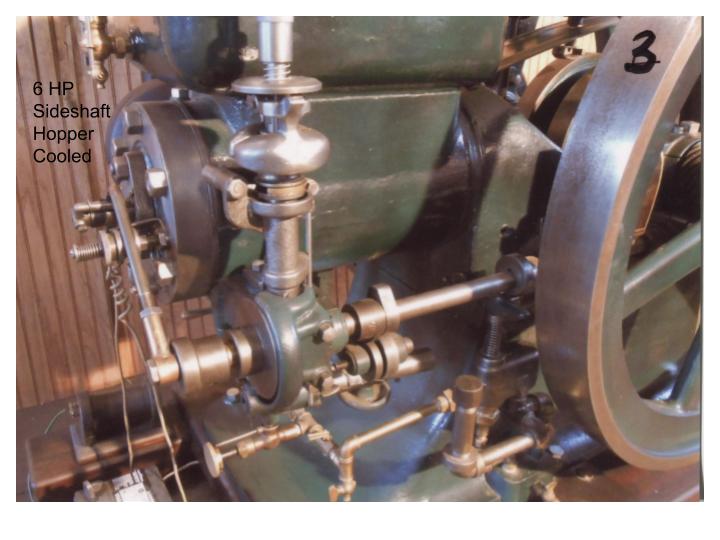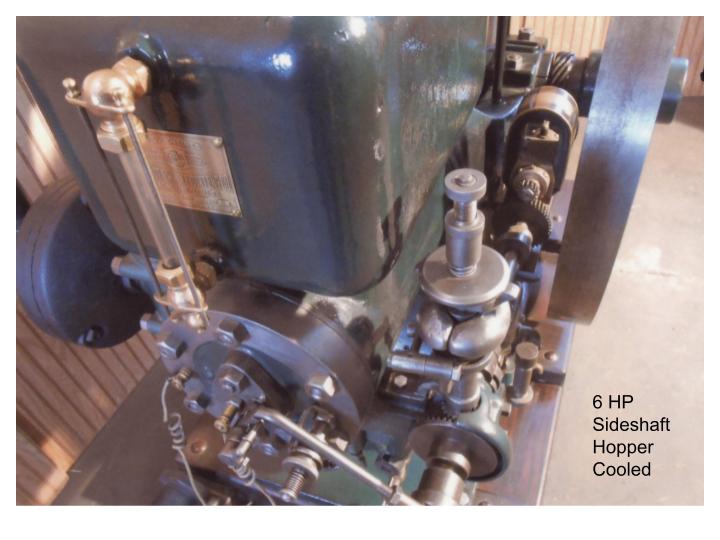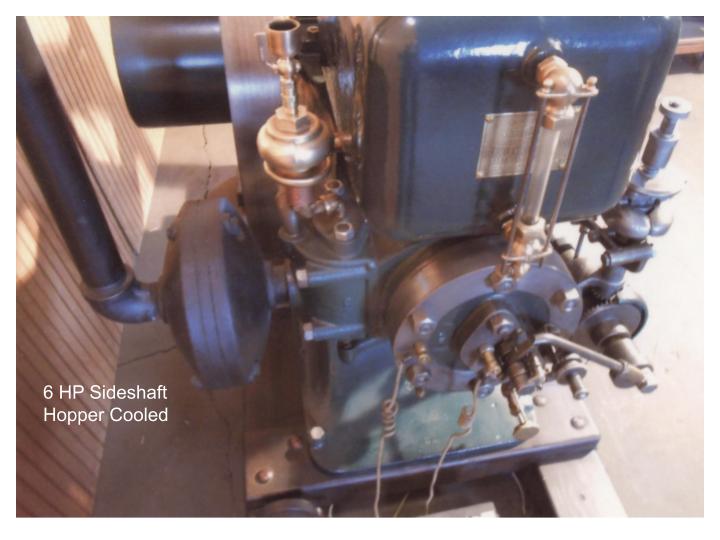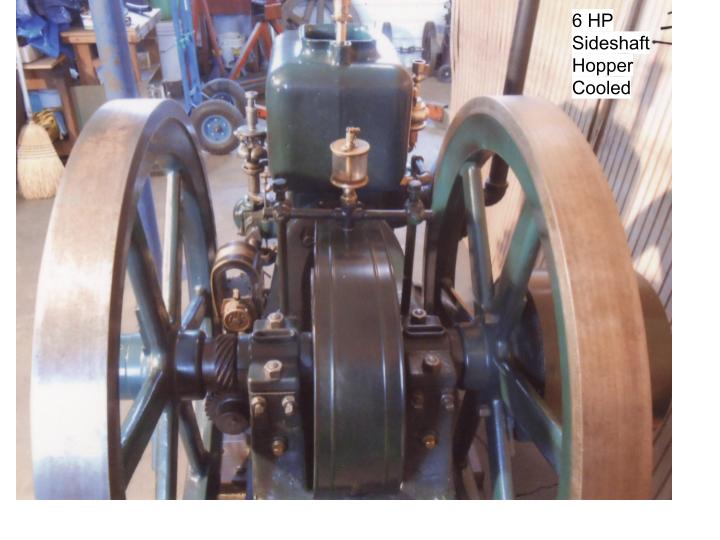 Root & Vandervoort 6 HP Hopper Cooled Sideshaft
Built in Moline, IL in approximately 1915, this engine ran a machine chip in St. Louis, MO, was mounted on skids, and was belted to a line shaft overhead. It has its original sideshaft driven wizard magneto and fuel pump. Equipped with a volatilizer and priming cup made it easier to start in the winter. The crank rod bearing is lubricated by a drip oiler onto a lamp wick that is wiped by a brass fitting on the connecting rod.
R&V sideshaft engines were built with vertical style flyball governors that could be adjusted while running. These governors were connected to the carburetor, thus making for a very smooth running unit suitable for line shaft belted machines. From this design feature came the designation "Throttle Governed". This size engine carried a 6" bore, 9" stroke, 35" flywheels, and weighed approximately 1800 pounds. 6 HP Sideshaft Serial Number #D57116 hopper cooled with orginal Mag and Brass Volitizer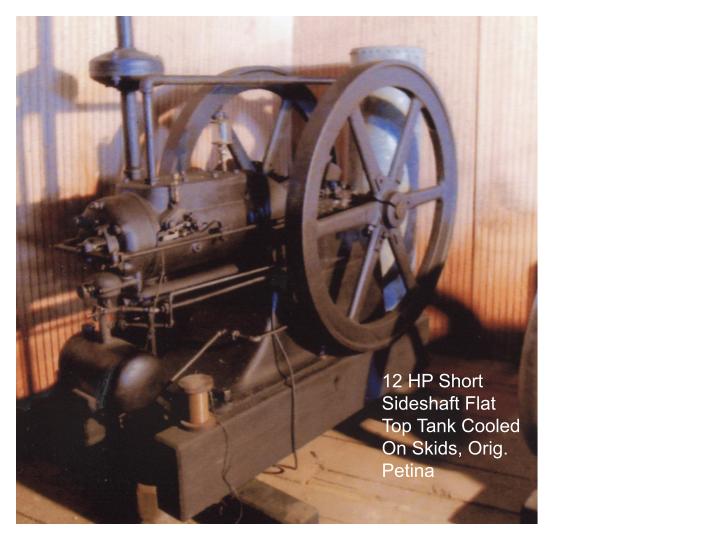 Root & Vandervoort 12 HP Short Side Shaft
This engine was discovered on the east side of the Sierra Nevada mountains, south of Lake Tahoe, and remains in nearly "as found" condition and patina.
Being a silver and gold mining area, it can be assumed it found its first working days in that occupation. It was recovered some 40 years ago laying on its right side with the manifold and head partially buried in the blood and mire of an old rendering plant. The original duel ported manifold was damaged beyond repair but the head was still useable. After a major clean-up and repair, it ran and started as nicely as it does today. With this interesting history, it seemed a shame to paint and make it look like new.
We have never ben able to find a serial number, but judging by the governor design, it was likely built in 1910-1912. According to Peter Lowe, the R&V registrar, there are only a couple of 12 HP known to have survived. 12 HP Sideshaft Flat top, tank cooled on skids original Petina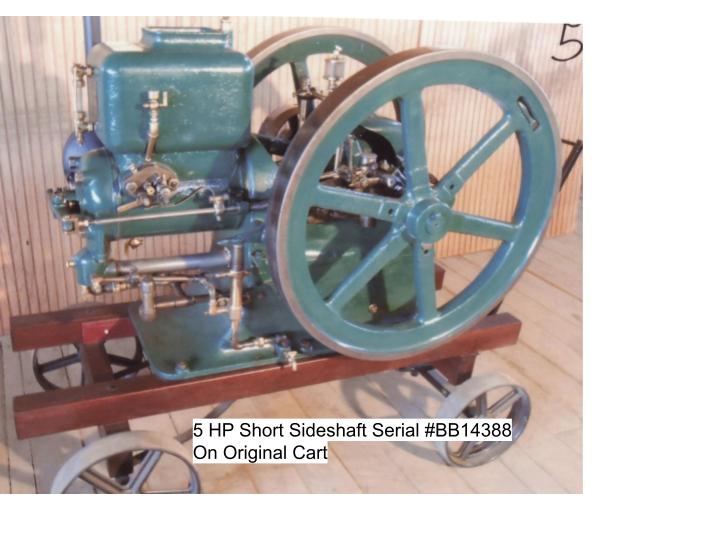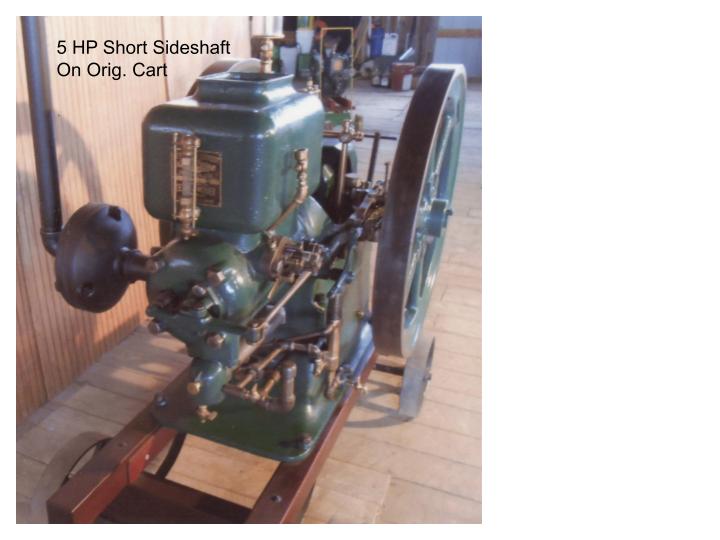 Root & Vandervoort 5 HP Hopper Cooled Short Sideshaft
Built at Moline, IL in about 1912, this engine has a 5 ½" bore with a 7" stroke, 30 ½" flywheels and wighs about 1250 pounds.
It is dual ported on the exhaust manifold which helps it run cooler on the exhaust valve. The igniter is fired by battery and coil and there is a sight glass water indicator on the front of the water hopper with a primer cup feeding the igniter cavity. It sits on an original cart and starts and runs as good as it looks.
We took this engine in a trade unassembled, with all the parts in boxes. As we cleaned and reassembled it, we found almost every part and piece, just as the former owner had promised. 5 HP Short sideshaft Serial Number BB14388 Sideshaft, on original cart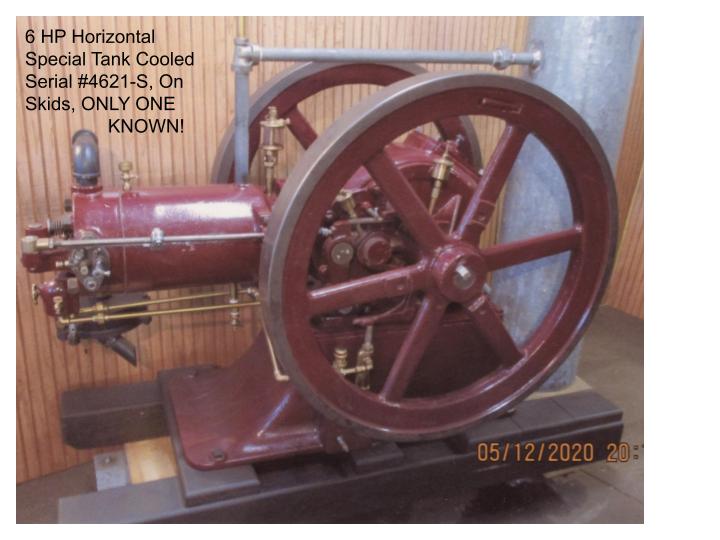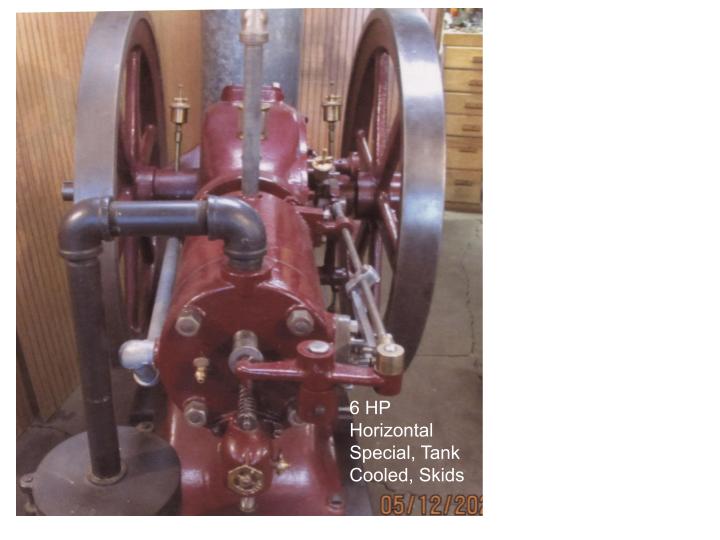 Root & Vandervoort 6 HP Special
This horizontal hit & miss first appeared in 1904 and was brought out to meet the demand for medium priced, general utility and farm engine. It was essentially a 6 HP vertical style engine fixed with special base to make it set horizontal. Note that the crank case is enclosed with the cover at a 45 degree angle to give access to the rod bearing. The mixer was repositioned under the head with the igniter identical to early verticals.
This engine was found in the Bodie gold mining area of eastern California. In the process of removing, it from the standard mine located on the hill just east of Bodie, it was dropped and rolled down an incline doing extensive damage to the right flywheel and crank case. After having Cattail Foundry cast a matching flywheel, it was mounted on skids and restored to its present condition.
According to Peter Lowe, the R&V registrar, this engine was only built for a year or two and is the only example of a 6 HP special. It is mounted on skids and is tank cooled. 6 HP Special Tank cooled on skids only one known to exist Serial Number #4621-5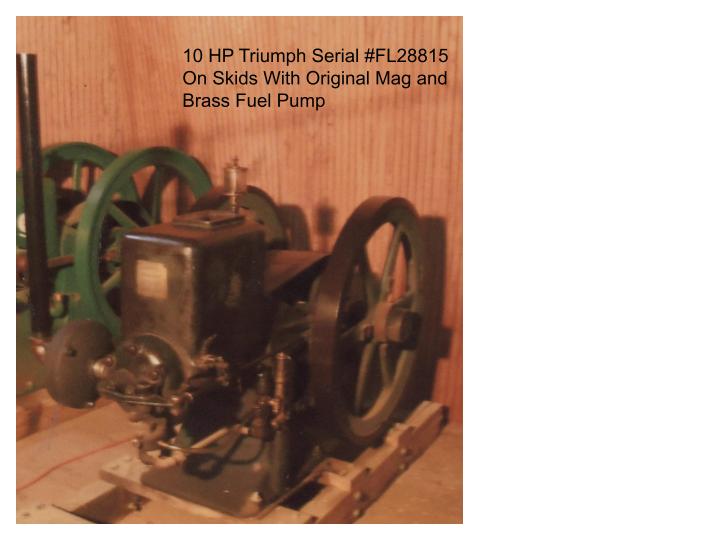 10 HP Triumph FL28815 On skids w/Mag and Brass Fuel Pump Serial Number FL28815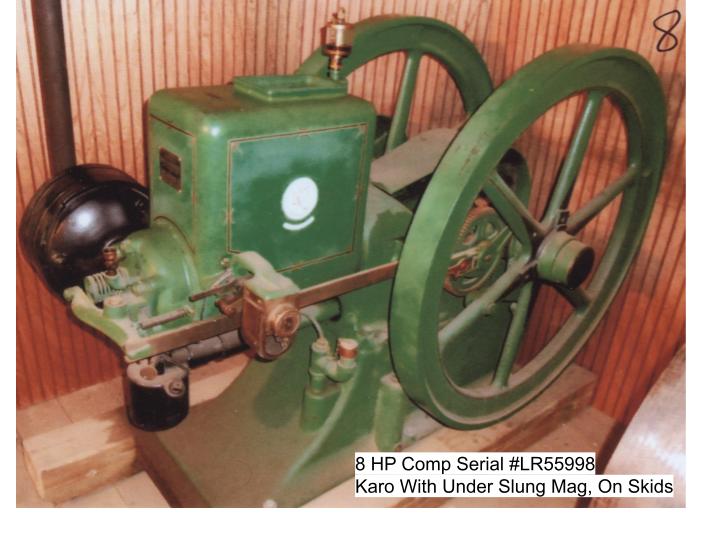 8 HP Comp #LR55998 Karo W/under Slung Mag on Skids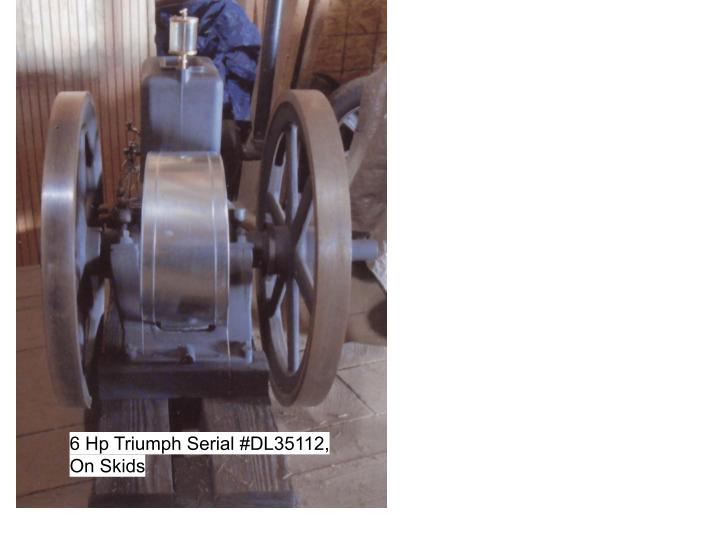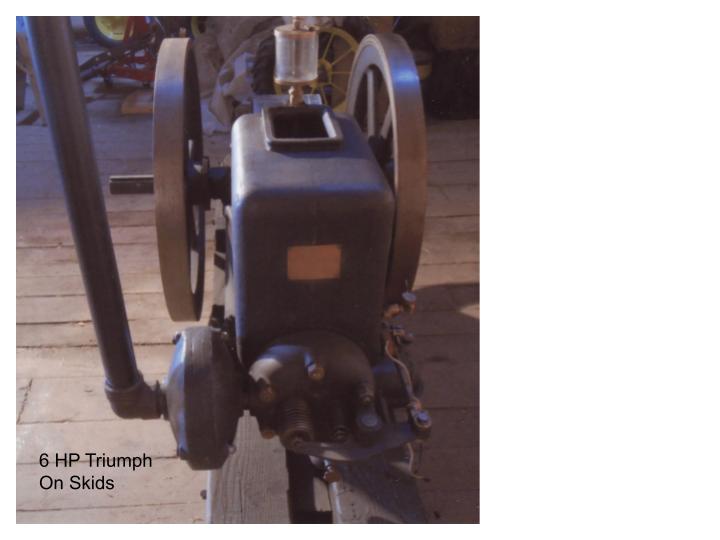 6 HP Triumph on Skids DL35112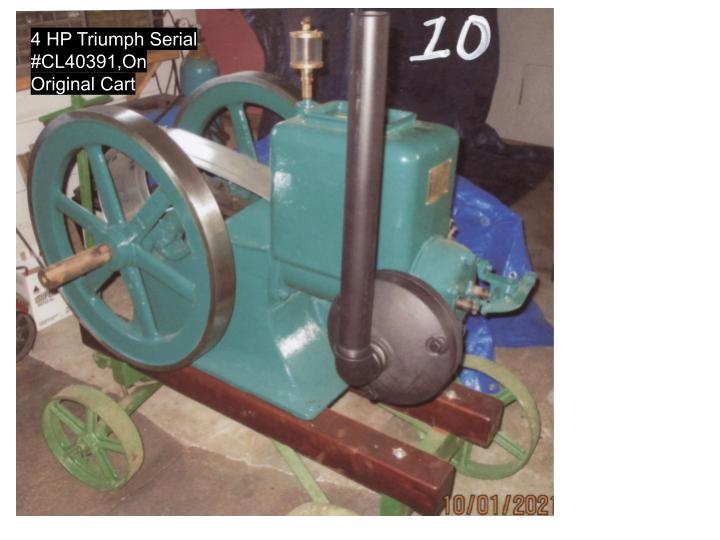 4 HP Triumph on Original Cart Serial Number #CL40391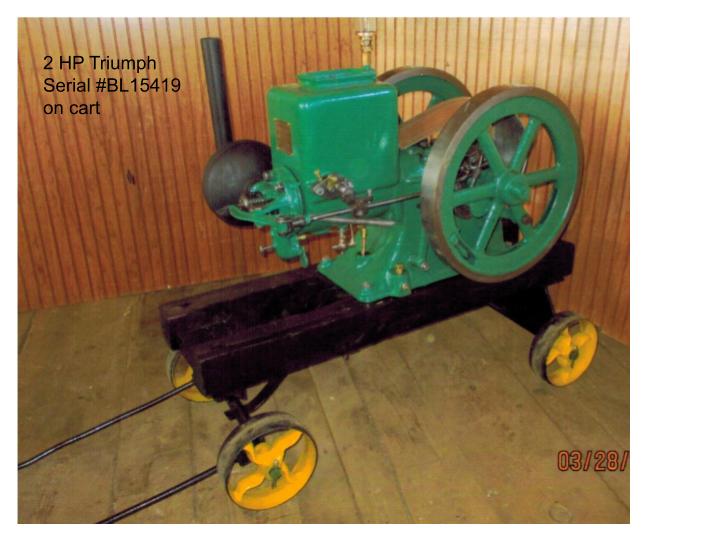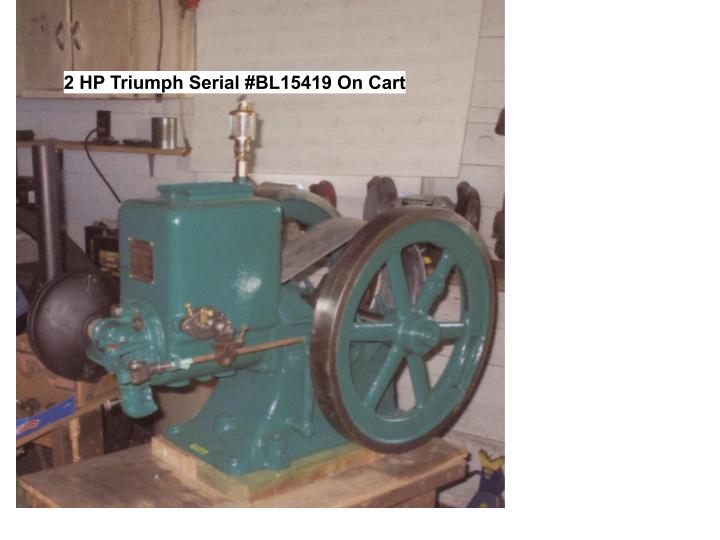 2 HP Triumph Serial Number BL15419 on Original Cart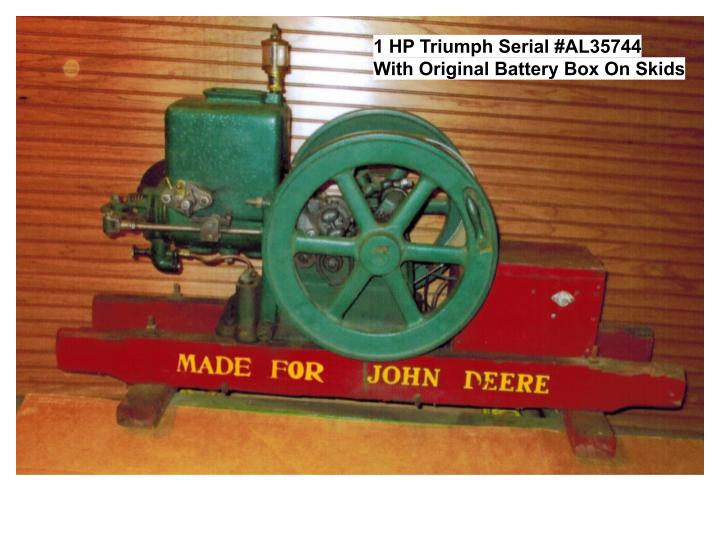 1 HP Triumph Serial Number #AL24641 on skids with original battery box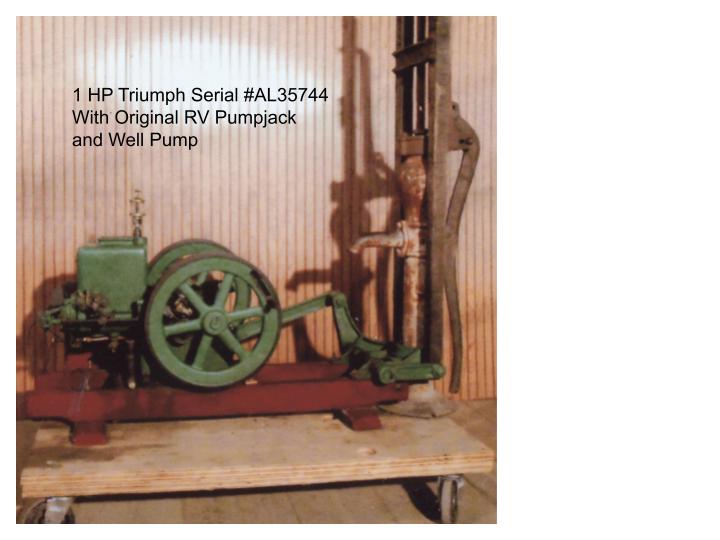 1 HP Triumph Serial Number AL35744 with orginal pumpjack and pump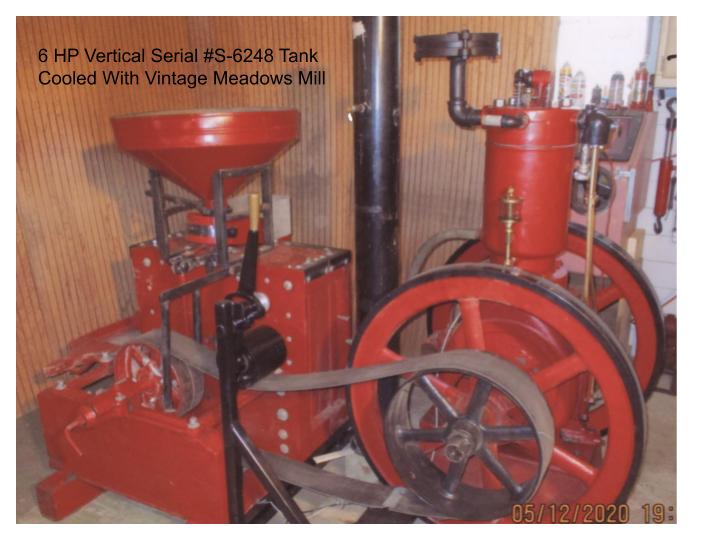 Root & Vandervoort Vertical with Meadows Mill
This engine was built at Moline, IL in approximately 1907, it being one of the last years they were painted in blood red. At about this same time the igniters were repositioned to mount vertical instead of horizontal as in early production. All up-right engines were hit and miss and controlled by a governor weight in the flywheel. This triggered the latchout tongue causing the engine to miss or idle until the governor latch released, allowing the engine to again fire. The igniter is activated by battery and coil making a very reliable source of ignition.
The engine is belted to a Meadows Flour Mill of about the same vintage. The flat belt is controlled by a hand clutch, making it easy to control the mill independent of engine speed. The mill was rebuilt at the factory in Virginia a few years ago and has its original grain hopper and shaker pan. This unit was 24" stone grinding wheels, making its production "Stone Ground".
This type of engine driven mill would have been fairly common in small town groceries from the 1890's until rural electric co-operatives came in during the 1930's. Local farm families often traded butter, eggs, or chickens with the grocer to pay the grinding fee. 6 HP Vertical tank cooled Serial Number #S-6248, belted to ventage Meadows Mill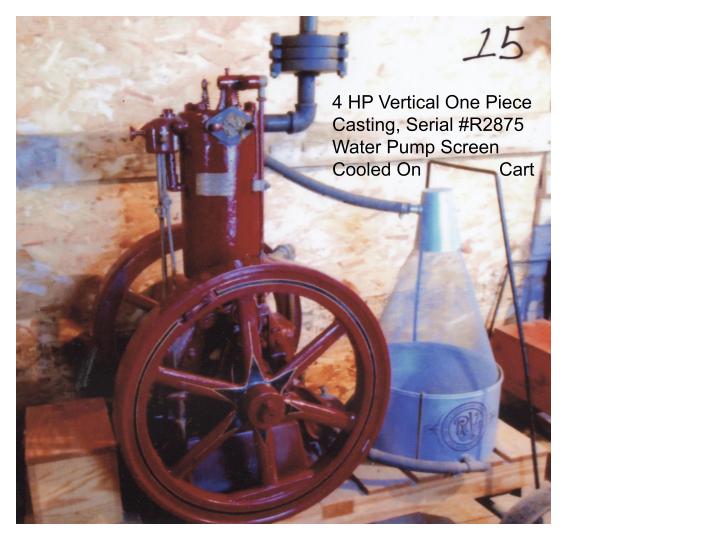 4 HP Vertical 1pc Casting Serial Number #R2875, water pump screen cooled on cart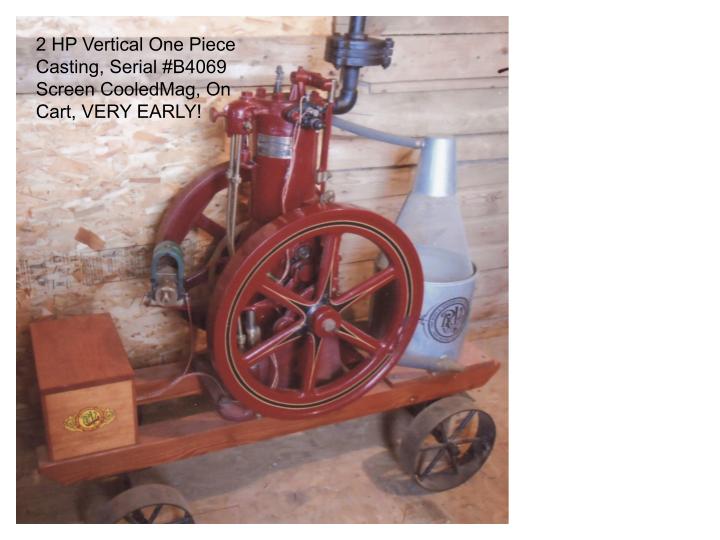 2 HP Vertical 1pc Casting #B4069, with Mag on cart very early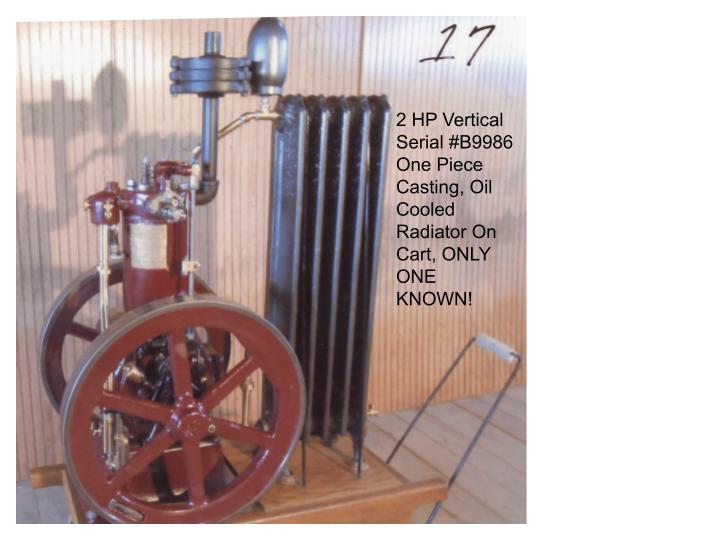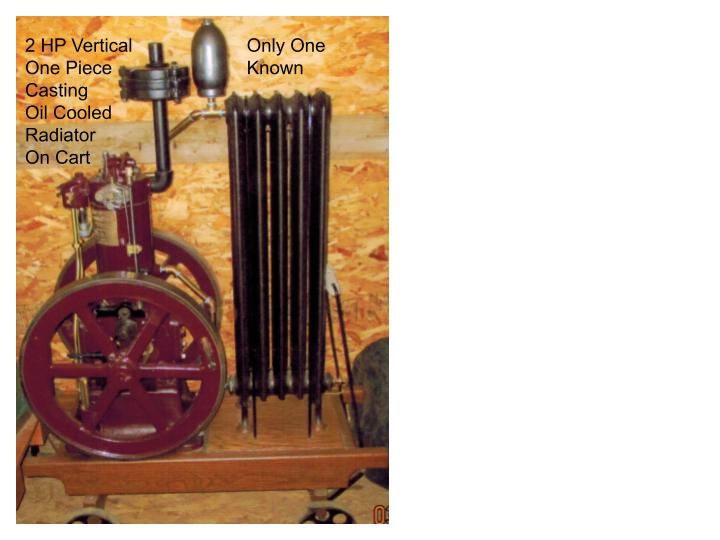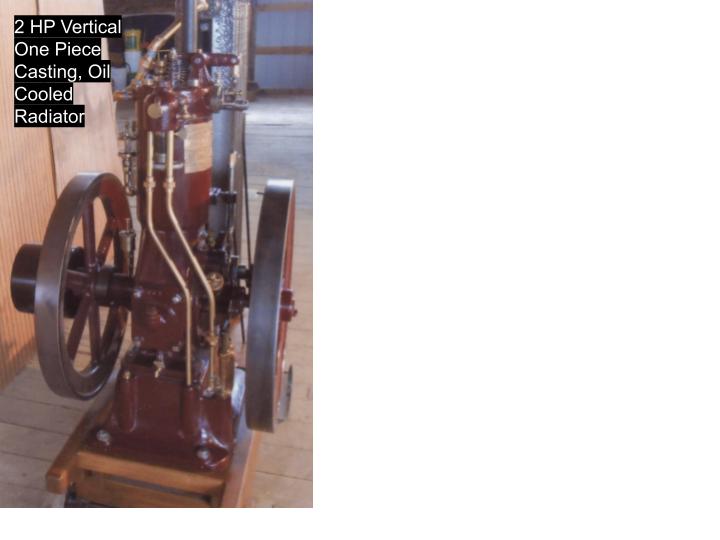 Root & Vandervoort 2 HP Vertical Oil Cooled
Brought out in 1905. This engine was cooled with a cast iron radiator filled with oil. The purpose was to prevent frost damage to the cylinder block which was cast in one unit with the base. An interesting cast iron bulb type expansion tank is incorporated in the upper flow to the cooling radiator. The entire unit is mounted on an original style skid that sits in a truck to make moving it easier. This engine came out of the high plateau area in central New Mexico. To our knowledge this is the only oil cooled example known to exist. 2 HP Vertical 1pc Casting Serial Number #B9986, oil cooled radiator, on cart.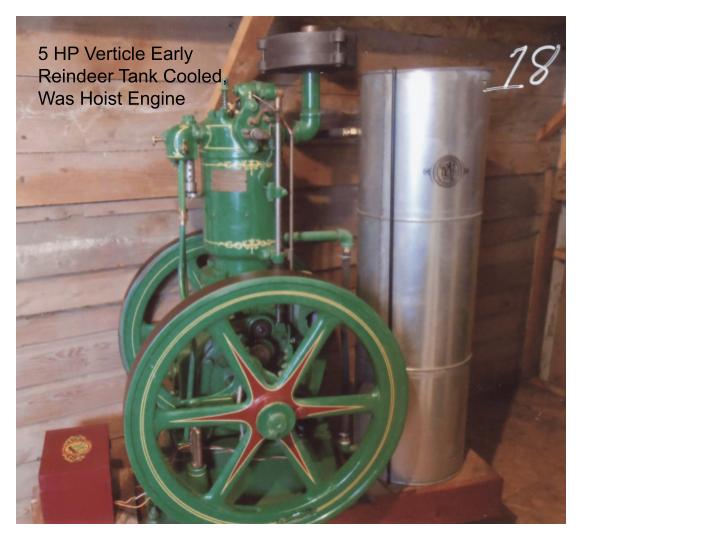 5 HP Vertical-Early Reindeer Tank Cooled, Was Hoist engine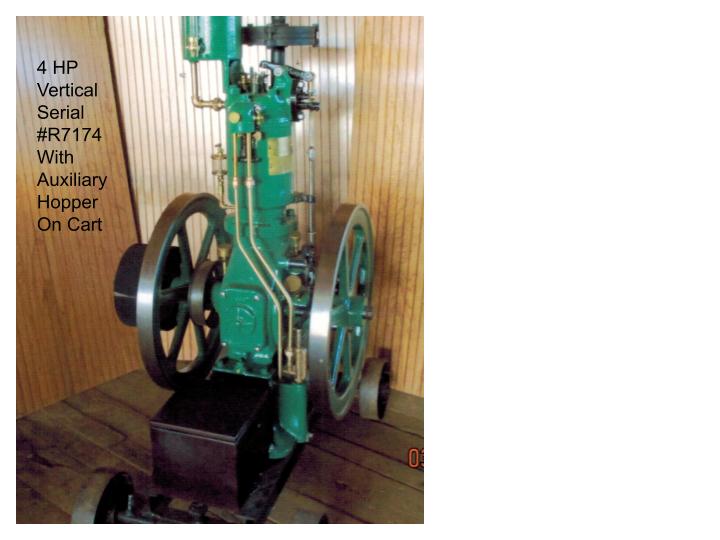 4 HP Vertical Serial Number #R7174, with auxiliary hopper on cart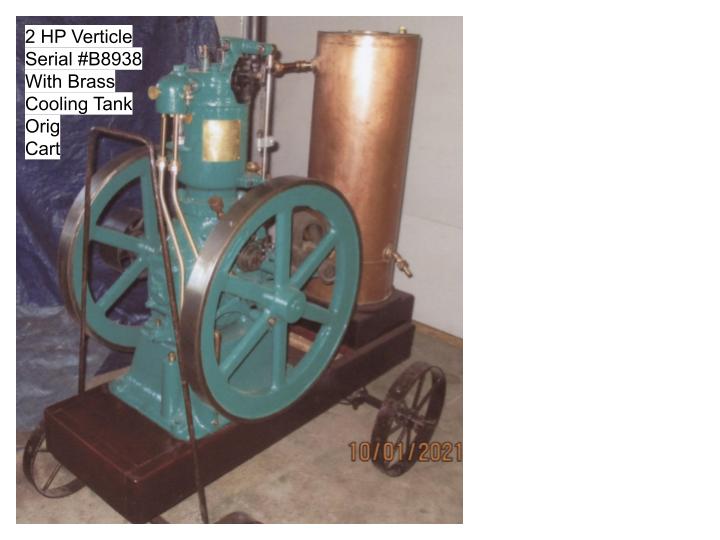 Root & Vandervoort 2 HP Vertical
This 2 HP verticle with a brass cooling tank and wizard magnito was shipped by rail to the John Deere Branch House in San Francisco in 1908. Starting in 1907, vertical engines were cast with detacable water hoppers, allowing a simple replacement in the event of winter frost breakage.
This engine pumped water on a silver claim in the south eastern corner of Nevada near to the Arizona line. 2 HP Vertical Serial Number #B8938 with Mag, brass cooling tank, on original cart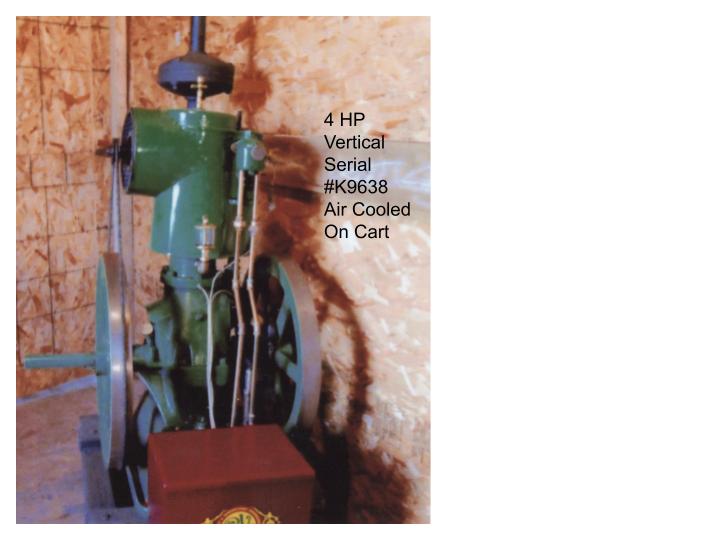 Root & Vandervoort 4 HP Model K
The 4HP Model K was built by Root & Vandervort from 1908-1911, and was air cooled with round belt from flywheel to fan. It was spark plug fired with battery and high tension coil. An interesting feature was a double ported exhaust manifold apparently used to help it run cooler, thus extending the life of the exhaust valve. Cylinder and head are one casting eliminating blown gaskets. The crankcase is hinged to facilitate easy inspection and repair. 4 HP Vertical Air cooled with cart Serial Number #K9638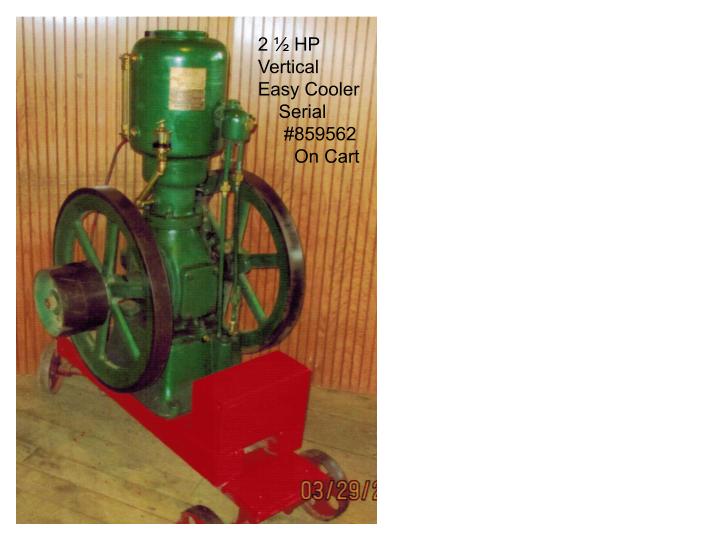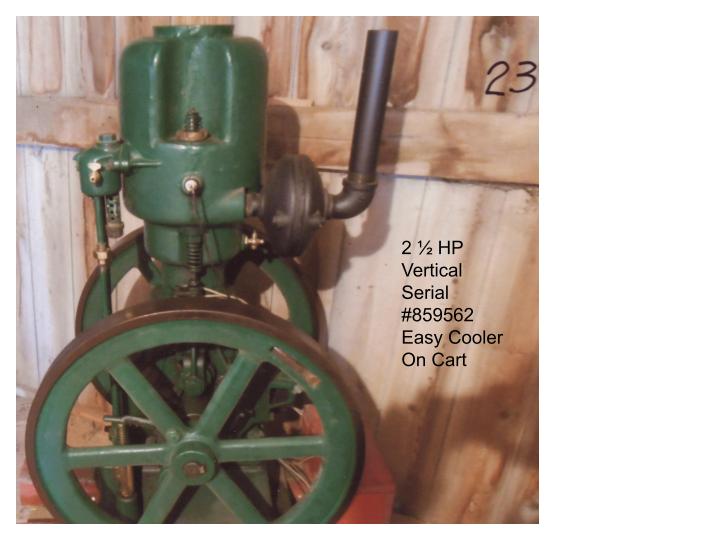 2 ½ HP Vertical Serial Number B59562 Easy Cooler on Cart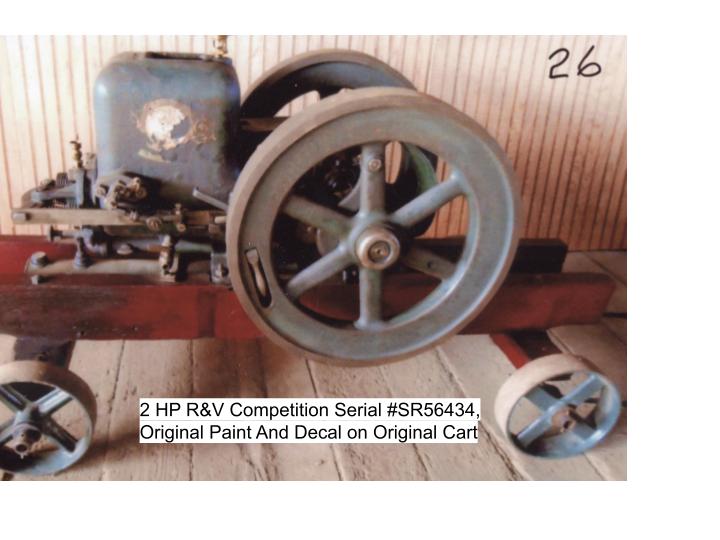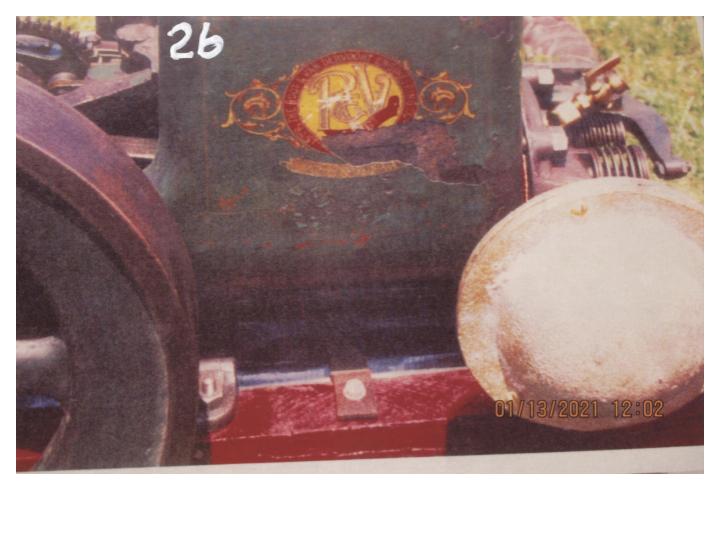 2 HP R&V Completion Original Paint and Decal on Original Cart Serial Number SR56434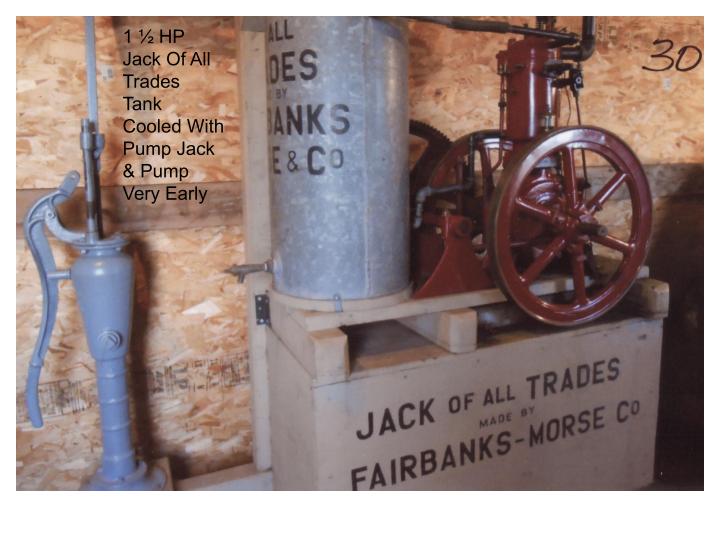 Jack-of-All-Trades
Technically, the Jack-of-All-Trades designation was ascribed to the 1 ½ horsepower vertical engine shown here. This 1901 model typified the production of these engines for several years, although the power level was eventually raised to 2 horsepower. Larger vertical engines were properly known as Type T engines. However, the Jack-of-All-Trades designation was used at various times in the early 1900s, and this leads to a certain amount of confusion regarding the various models. Later models of this engine were mounted on a lower base than is shown here. Note also that this engine is equipped with a hot tube igniter and an electric igniter as standard equipment.
Fairbanks, Morse & Co. Beloit, Wisconsin
This 1 ½ HP Fairbanks-Morse engine was known as a Jack of All Trades. One of the earliest known pump jack unit, it has both hot tube and electric ignition. It was found in the 1940's on a cattle ranch in the foothills west of Sutters Creek, (Gold Country) California. Restored in the 1970's to its present condition, it makes a fascinating display actually pumping water.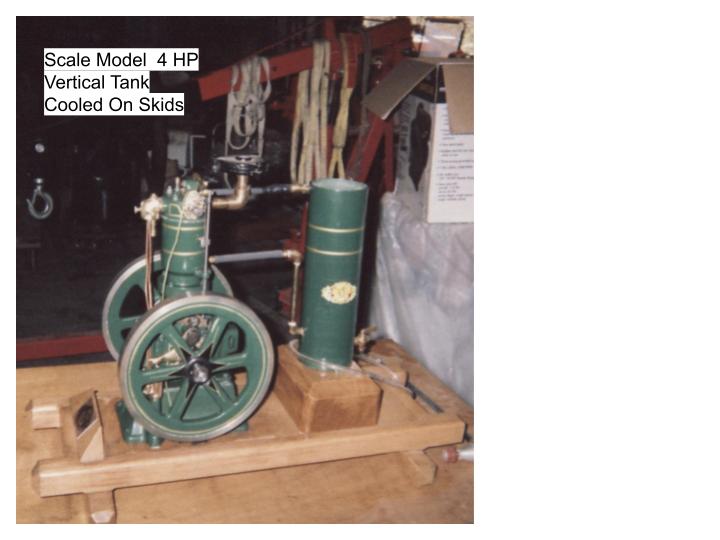 Scale Model 4 HP Vertical Tank Cooled on Skids
Not Pictured but are part of the collection (pictures to come later):
1 HP Triumph Tank Cooled Serial Number AL27337 on skids Modified Prototype and 1 HP R&V Competition on cart with gear driven Mag Serial Number AR46840